This post has been sitting in the "drafts" folder for a while now. Clearly, since it's August and is therefore a little late to be deciding on a plan that is supposed to carry through all 12 months of 2017. Regardless, I think it's still worth sharing how I've attempted to increase the frequency of my blogging. My basic goal for 2017 is:
Create more content in 12 months than I ever have before in order to a) significantly build up the depth and breadth of knowledge on my blog, b) increase my skills as a writer, and c) continue to build this blog and the readership as a key part of my online persona and brand.
In order to achieve this goal, I've identified a couple of tactical objectives:
Reduce the friction between me and the keyboard; make it possible to "just write".
Be able to "just write" anywhere. At home. On vacation. In a waiting room. On an airplane. I should also be able to start a post in one location and pick it up again in another. Indirectly this means I need to be able to write on any of my computers or mobile devices.
In order to meet these goals, I needed to improve my tools and come up with a better workflow.
Better Tools⌗
I depend on my tools a lot and expect a lot from them. If they aren't making the grade, they gotta go.
I first looked at my hardware tools:
Home PC: a-ok
Work laptop: a-ok
iPad: ...not so good
I've had an iPad 3 for a number of years and it was starting to show its age with slower and slower performance with each new iOS release. I also really wanted to do side-by-side app multitasking so that I could see my notes while I'm writing without having to switch between apps.
A new iPad meant I would have to get a new hardware keyboard as well since the newer iPads were different dimensions than the 3rd gen. A hardware keyboard is absolutely mandatory for fast and accurate typing and, if you get the right model, it will behave as a stand for the iPad as well.
To summarize the new hardware:
iPad Pro 9.7
The Brydge iPad keyboard
The software side of things was more complicated, almost entirely because WordPress (the software I use to run this blog) does a poor job of supporting mobile devices when it comes to authoring posts. The authors' web UI is not suitable for doing writing and the mobile app isn't any better. The only time I feel like I can write a post within the WordPress UI is when I'm in front of a full blown computer. I made the choice (for now) to stay with WordPress and instead find a way to manage this problem from the client side. What I needed was an editor, or family of editors, that I could use on any device that would all synchronize their documents.
I decided to adopt a set of editors that supported the Markdown syntax and would sync documents to Dropbox. Support for Markdown makes it easy to compose posts while adding formatting such as bold, italics, headings, and block quotes without having to type all of the necessary HTML markup. Instead, I can write posts in normal plain text with additional Markdown, ermm... markup... where needed and then export the document from Markdown to HTML for loading into WordPress. And since the editor will sync everything I've written to Dropbox, this enables any device to access the latest material so I can pick up where I left off.
The editors I chose are: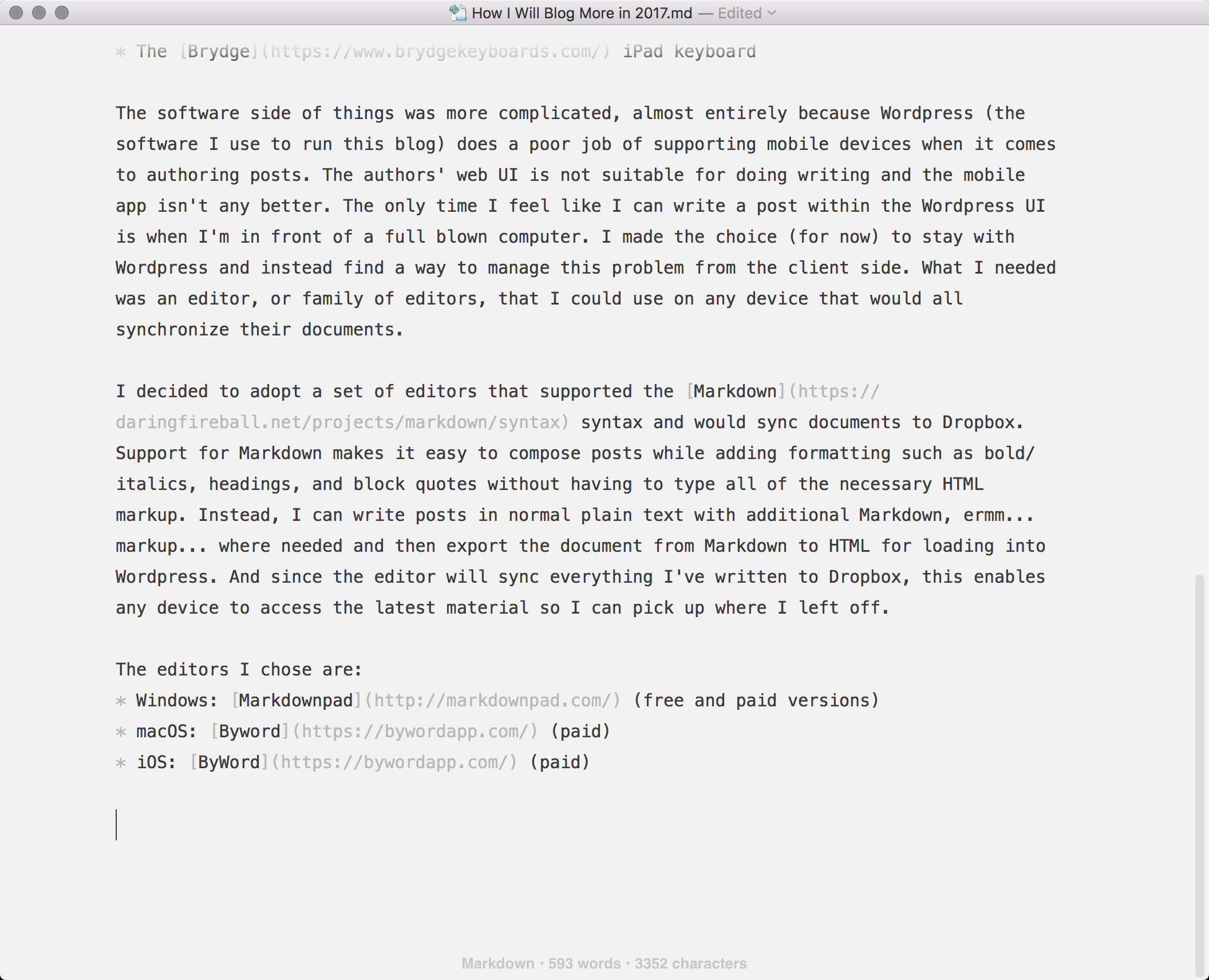 For taking notes and doing research for a post, and also for capturing ideas for future posts, I use Evernote. Its ability to capture whole web pages, PDFs, and images makes it nicely suited as a research tool. Ironically, it's pretty rough around the edges when it comes to serious writing though, especially if you're working on the same document using the Evernote app on different operating systems.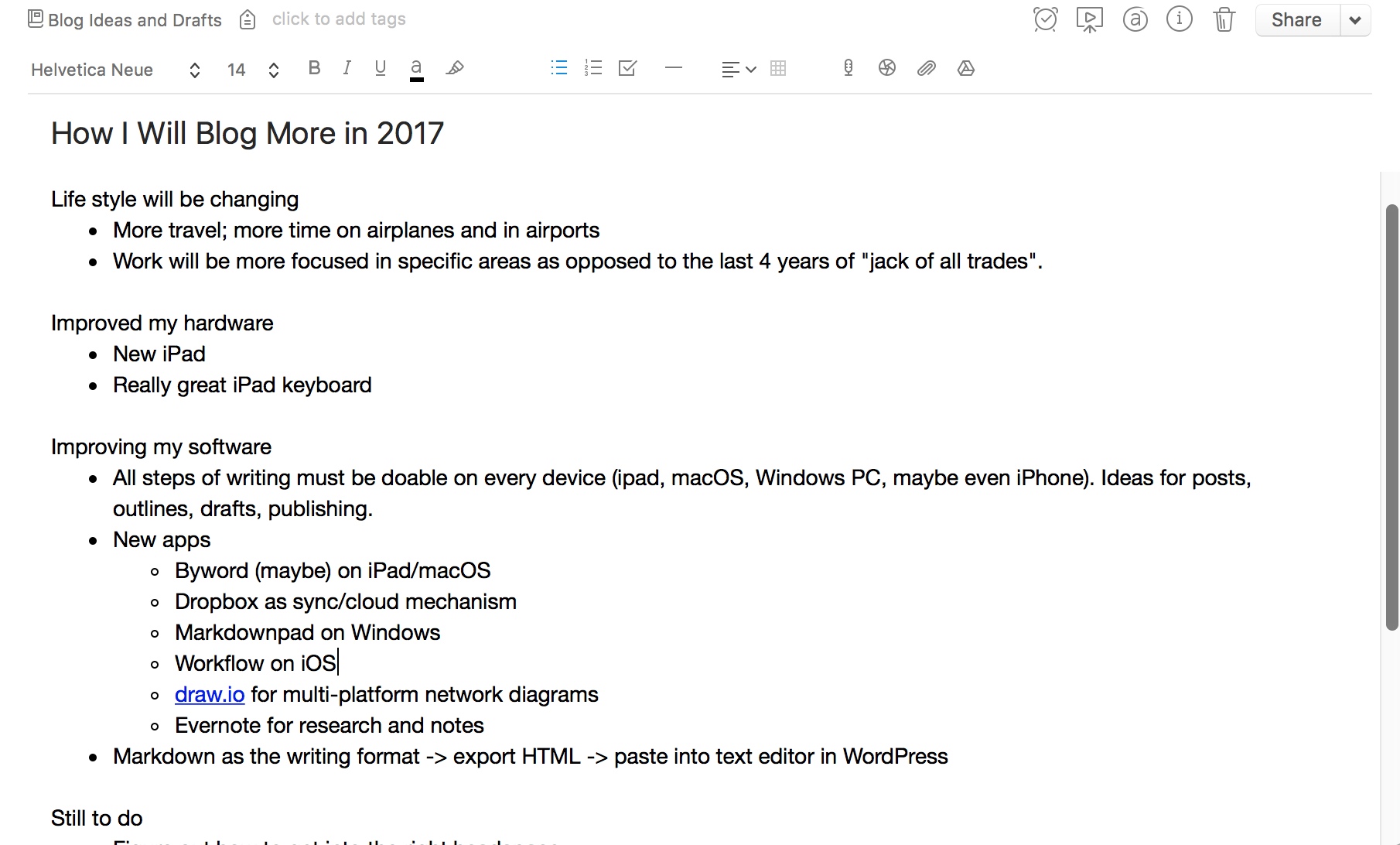 Now that I had the tools for researching and writing posts, I needed a tool for doing drawings. No self-respecting network nerd can write much of anything without some proper diagrams! Both Microsoft Visio and OmniGraffle were out due to their single platformedness (that's a word, right?) so once again, to the cloud! and draw.io to the rescue. Draw.io is an HTML5 & Javascript-based vector graphics editor that runs entirely in a web browser. And the best part is that it has a very comprehensive selection of network icons and shapes which makes drawing network diagrams a breeze. Drawings can be saved and loaded to/from Dropbox so once again synchronization is achieved.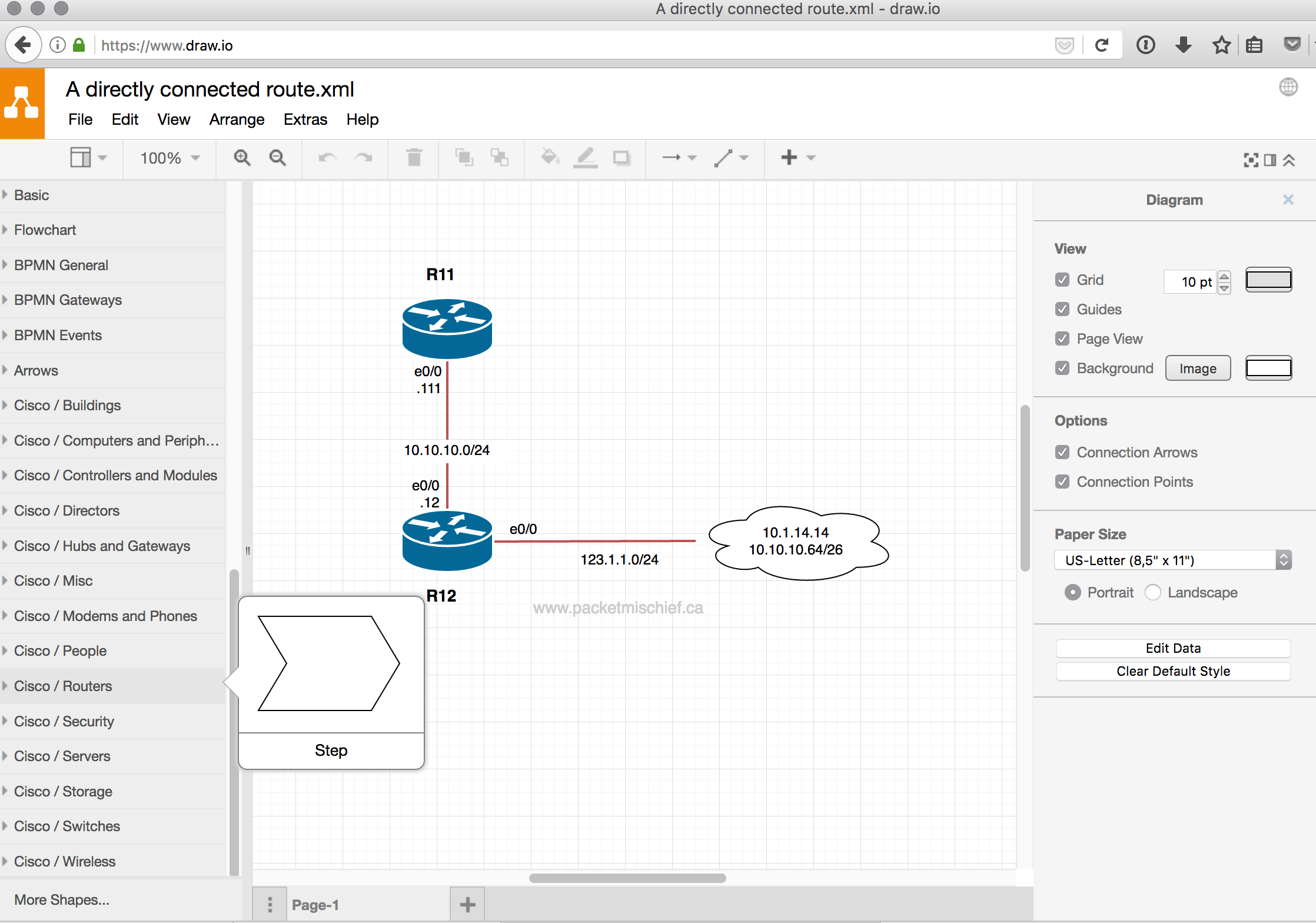 While draw.io does load and run on mobile devices, it's not exactly practical. I've accepted that drawing network diagrams isn't going to work very well on mobile devices so I reserve that part of my posts for when I'm on a computer. (Although, as I write this, I wonder how well draw.io would work with the iPad Pro pen? ?)
Lastly, I felt like I could do everything on the iPad that I could do on a computer except upload images. For that, I've turned to the Workflow app. Workflow is used to create everything from simple flows such as dimming your screen with the push of a button to more complex things such as choosing, cropping, and uploading images to a WordPress blog. Thanks for Workflow's built-in support for WordPress, a workflow can be used to send an image right to the blog, all without the need to use the WordPress UI (whew! ?).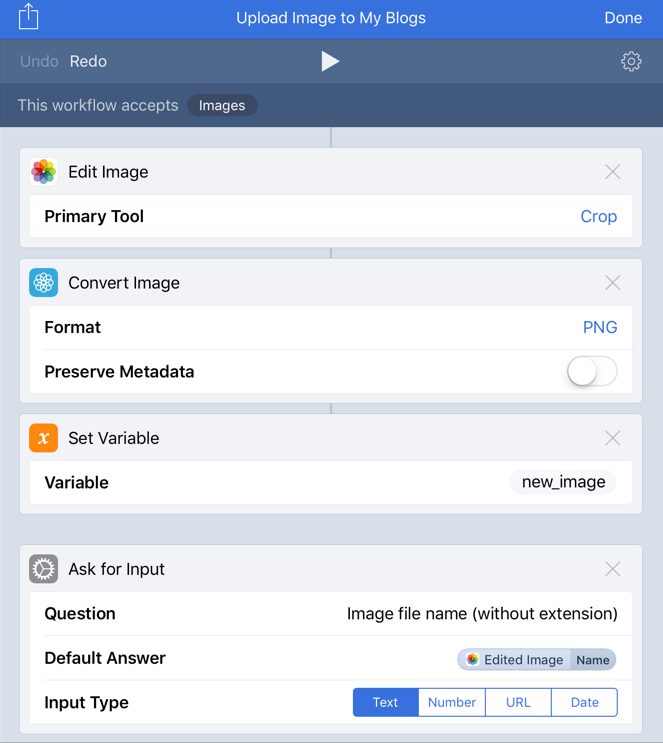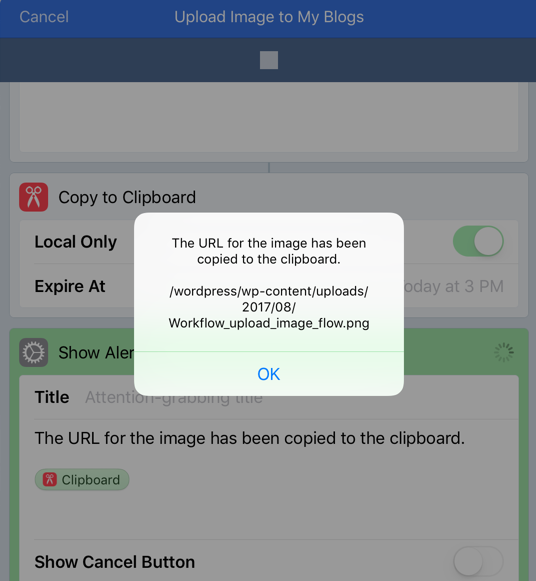 To summarize the software tools:
Research/notes/blog ideas: Evernote (all platforms)
Writing: Byword (macOS, iOS), Markdownpad (Windows)
Drawing: draw.io (cloud)
Crop and upload images: Workflow (iOS), native tools + WordPress UI on Windows & macOS
Synchronization between devices: Dropbox (cloud)
Better Writing Workflow⌗
With all these tools in place, my basic writing workflow now looks like this:
New idea & research:
When an idea for a post first pops into my head, I make a note of it in Evernote. Sometimes I create a brand new note inside my "Blog Ideas" notebook and sometimes I add it to an existing "List of blog post ideas" note.
As I start to do research for the post, all of my findings and artifacts go into a note that's dedicated to the blog post. I may even create a general outline of the post in Evernote.
Writing drafts:
I do all of the actual writing in Markdown format in either Byword or Markdownpad.
I get about 90—95% of the article written in these apps. The only parts I'm not always able to finish is the editing, uploading, and embedding of images or photos.
Images & photos:
If I'm composing the post using the iPad, I will use the Workflow app to help me edit and upload images and photos to WordPress. My workflow also copies the resulting URL of the image into the clipboard so I can paste it into Byword.
If I'm composing the post on a computer, I will use the native tools in the OS to edit images/photos and then upload them. If I'm on a computer, I'll also start creating any drawings that are needed.
Syncing content:
As I'm writing the draft(s) and creating images, I sync them all to Dropbox so that I can move between devices and still have access to the latest copy of the draft and all the images/drawings that I've creating during the drafting process.
Publishing
I do the publishing on a computer.
In the Markdown editor, I export the post to HTML and then paste it into the WordPress UI as a new post.
I proof the post to ensure all the formatting came out properly and do additional grammar and spelling checks.
This is also when I'll edit, upload and embed any remaining images and photos. If needed for the post, I'll also finish and/or start any drawings using draw.io and then upload and embed them in the post.
When it's all proofed and all the content is uploaded and embedded, I will schedule the post for publication at a specific time on a specific day of the week. I avoid holidays, weekends, and try to publish it at a time when the Canada/US east coast is starting their day.
Still To Do⌗
As is usual, I still haven't figured out how to solve the most difficult problem I face when I blog: me ?. Even before I sit down to write, I'm thinking about how to make the post "nearly perfect" on the first draft. Uhhg. I need to figure out how to get into a proper, flowy headspace where I can truly assume the "just write!" attitude and not worry so much about spelling, grammar, formatting, or how the post will be received.
The other big thing I need to do is take better steps to block distractions. Mobile phone, other applications, people, ambient noise, and random thoughts all rob me of my productivity or give me excuses not to get started in the first place.
Wrapping Up⌗
I've been using these tools and following this writing workflow for 8 months now and I'm pretty happy with it. It's lowered the barrier to entry so I can more easily get started with writing and then continue all the way through to completion with much less concern about where I write or what device I choose to use. I think the eventual evolution here would be to transition to a new blogging platform; one that treats mobile and desktop devices equally and allows full-featured composing and editing on both. To really write more though, I now need to tackle the soft issues and get better at adopting a "just write!" attitude.
If you're a blogger, I'd be really interested to hear what software tools you use to blog with WordPress as well as your thoughts on alternatives to WordPress. Leave a comment below!
Related Posts⌗