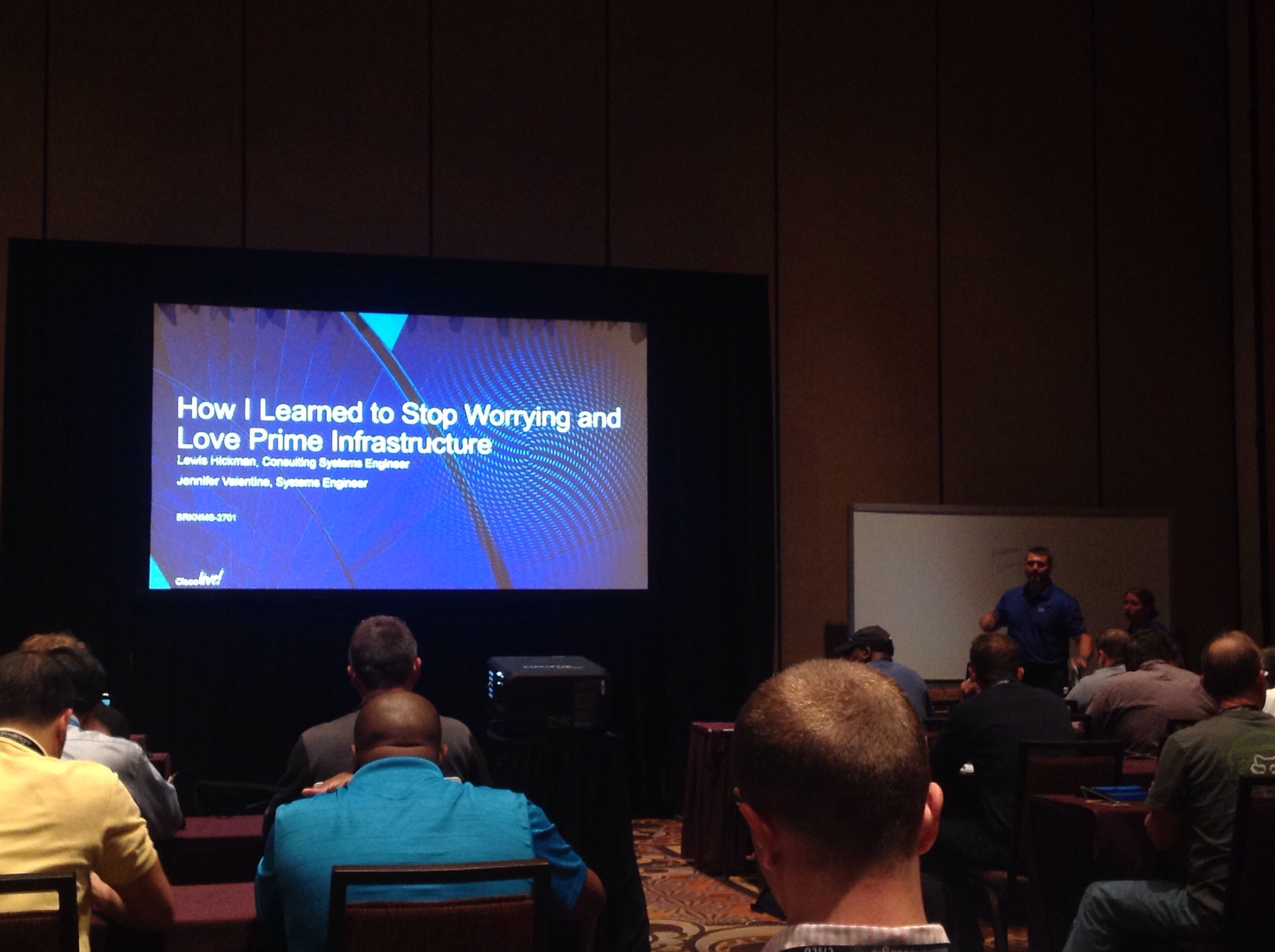 Presenters:
Lewis Hickman, Consulting Systems Engineer
Jennifer Valentine, Systems Engineer
Quick survey in the room: 60-70% of attendees running PI 3.x; 10-20 PI 2.x; some still on LMS.
"There are 37 different 'Cisco Prime' products" -- Lewis
"Cisco Prime" isn't a product; "Cisco Prime Infrastructure" is. Cisco Prime is a family of products.
PI traces its lineage back to 1996: CWSI > Cisco Works LMS > Cisco Prime LMS > WCS > NCS > Prime Infrastructure.
"1232 SysObjIds supported in PI today" -- Lewis (aka, 1232 different devices supported by PI)
Two people (only!!) in the room running Network Analysis Module.
UCS Server Assurance module: enables mgmt of UCS servers; will integrate into vCenter and map VMs to physical hosts for you. 
Operations Center: manager of managers for PI
Licensing in PI 3.x:
One license for Lifecycle and Assurance now
Different license files for different device types
Different device types require a specific number of "tokens"
When a license is installed in PI 3.x, it gets converted into the appropriate number of tokens
As you add devices to PI, it draws down on the number of free tokens in the pool
Hint: You don't have to install the matching license file for the type of device you want to manage (eg, you can install a Cat3k license to manage an AP)
PI 2.x licenses can be installed in PI 3.x; only the functionality enabled by the 2.x license will be enabled (eg, only Life Cycle)
No more Flash (!!) in 3.x; HTML5 interface and tablet friendly, too.
Finding devices with discovery:
Import CSV, CDP discovery or add single device at a time
Can use different discovery methods for different places in the network
Use a Credential Profile to store CLI and SNMP creds so they're reusable
Device Groups: static (manual) or dynamic (by policy) assignment of devices to a group
Reports:
"Hardware Detail Report" -- useful when you need a detailed inventory at Smartnet true-up time!
PSIRT and EoX reports: security and end of sale/life reports
Config Archives:
Administration > Settings > System Settings > Inventory > Configuration Archive
Checkbox for archiving the configs as soon as the device is added
Checkbox for archiving config on receiving config change events (syslog SYS-CONFIG messages); there is a hold off timer for this setting
Archives can also be scheduled
Archives are gathered when interesting things have changed; some commands are "not interesting" and will not trigger a new archive (full list in Config Archive settings, Advanced)
View archives by drilling into the device from Device Inventory and Configuration Archive tab
Supports side-by-side config diffing!
Will identify when startup and running-configs are not in sync
Device configuration:
Dozens of out of the box config templates
Of course, create your own from scratch
Or, modify an existing template and save it as a new template
Templates have a built-in template language (Apache Velocity); if the user didn't specify a value for MTU, don't try to configure an MTU on the interface
Templates can be confined to specific device types or specific operating systems
Variables within the template can have its input validated to avoid users entering bogus data (and breaking the config)
Templates can pull out data from the PI inventory about the device (eg, interface speed, device serial number)
When templates are executed, user is displayed a form and asked to fill in the boxes; then they hit go to execute the config push.
Admin > Settings > System Settings > Inventory > Configuration > Deploy CLI Thread Pool Count:
Default is 5
Means PI will deploy to 5 devices at a time
On beefy installations of PI, may way to raise this number
Config compliance:
Supports IOS, XE, XE, NX-OS, AirOS (in PI 3.1+), and ASA
Only supported on Pro OVA or Generation 2 appliance (PI-UCS... SKU)
Support for Standard OVA coming PI 3.1 Maintenance Release 1
Feature is disabled by default; needs to be enabled and services restarted to enable
Define a baseline policy; run a report to validate compliance
Many sample policies
Policy has pretty complex logic rules
The compliance policy can do auto remediation (_unsure how smart this is, but it's the_re); can run remediation on a per device or per violation basis
There is a 2-hour breakout on just compliance on www.ciscolive.com
By default, the compliance check uses the archived configuration and not the on-box config; can be overridden  at time the job is launched
Fault monitoring:
Admin > Settings > System Settings > Alarms and Events > ...
Customize this! -Jenn; make it suitable and tuned for your environment
Alarms can be cleared, ack'd, annotated, and assigned to specific users
"Events" are SNMP traps or syslog messages
"Alarms" are a roll up of 1 or more events
Client tracking:
Combines contextual data from WLC, ISE, and the wired network to track a device as it moves through the network
Integration with CMX (MSE) can enable physical location tracking of wired devices
Application performance:
With the Assurance license, PI can ingest NetFlow data
Topology maps:
Network topology!
Initial topology view is based on device groups; drill down to see individual devices
Software image management (SWIM):
Can manually upload images to PI or have PI suck images down from the device
Defect in PI 3.x prevents importing software images directly from cisco.com; will be fixed in future PI maintenance release
Have PI archive all your deployed IOS images! -Lewis; don't depend on your specific image to always be available on cisco.com
PI does efficient image downloads from your devices; won't download the same image over and over if it's on multiple devices
Push images with scp, ftp, tftp, http