Well, it looks like another major item will get struck from my bucket list this year. I've been accepted to present at Cisco Live in Las Vegas this summer! 👊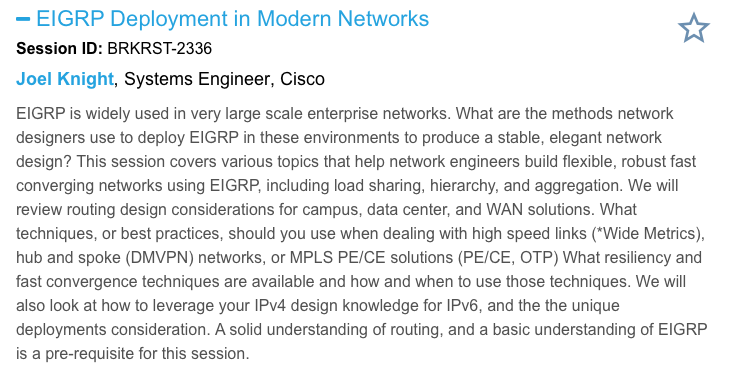 This session is designed to walk through an enterprise network and look at how EIGRP can be engineered with purpose to best suit the needs of the different areas of the network. I will focus a lot on stability and scaling EIGRP and will show the audience how, where, and when to leverage common EIGRP features such as summarization, fast timers, BFD, and wide metrics. Before getting into the nuts and bolts, I will be doing a bit of a level-set on certain EIGRP features such as queries, going active, summarization, and support for flexible network hierarchies. I will round out the session by talking about how EIGRP has been optimized for use in Cisco's Intelligent WAN (IWAN) solution and even touch on a not-so-commonly seen application of EIGRP: EIGRP Over-The-Top. The full session agenda looks like this: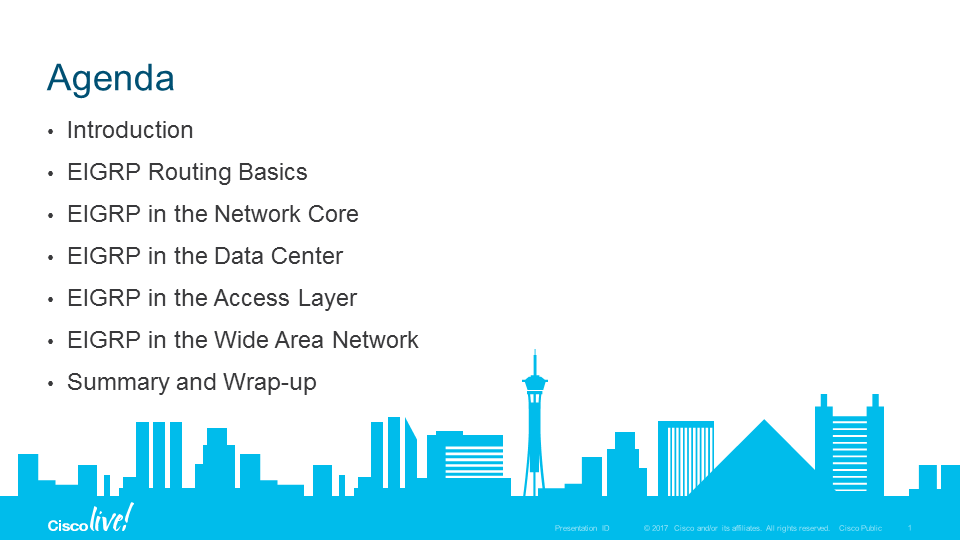 I'm actually inheriting this session from a fellow CPOC engineer, Steve Moore who, un-coincidentally, is the same S. Moore whose name is on the EIGRP RFC. Steve will be presenting a sister session the following day: BRKRST-2331: Troubleshooting EIGRP Networks.
If you're reading this and you're coming to CLUS this year, be sure to register and come listen to one or both of these sessions and pick up some EIGRP knowledge!
BRKRST-2336 — EIGRP Deployment in Modern Networks: Tue June 27 1:30pm - 3:30pm
BRKRST-2331 — Troubleshooting EIGRP Networks: Wed June 28, 1:30pm - 3:30pm