Presenters: Dave Zacks, Distinguished Engineer; Peter Zones, Principle Engineer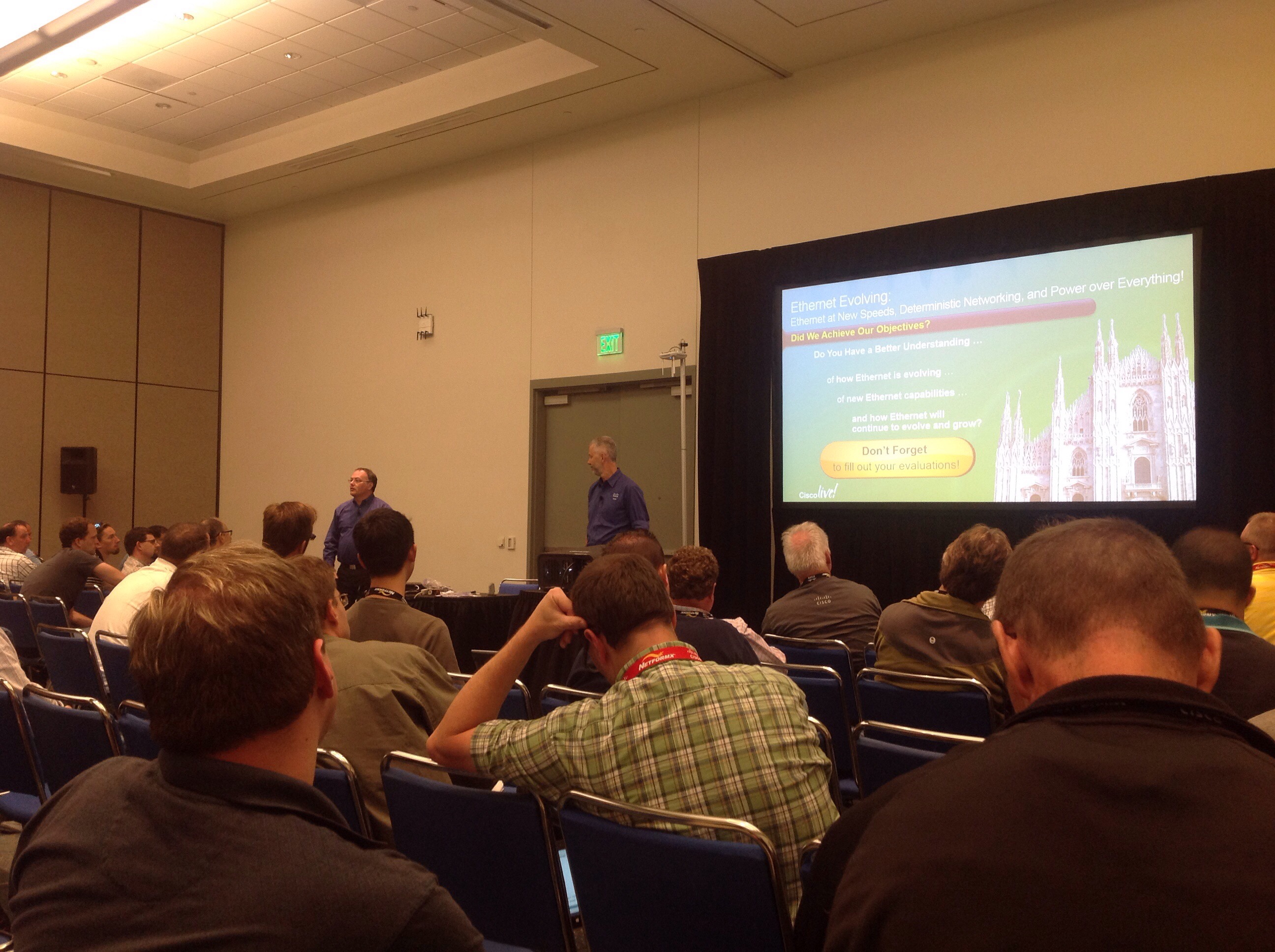 History has been: 10x performnce increase at 3x the cost. 40Gb broke that model -> 100Gb PHYs were very expensive; industry needed/wanted an intermediate step.
Ethernet has a really strong roadmap and will continue to evolve for a very long time. Roadmap: http://www.ethernetalliance.org/roadmap/
25Gb - direct server connect (Twinax)
40GBase-T (Cat 8 cable!)
2.5/5G - N-BaseT
400Gb
More
SERDES
Serializer/deserializer
Turns bits on the wire into bytes and vise-versa
40Gb Ethernet based on 4x10Gb SERDES
100m is the sweet spot for copper cable lengths. Why? CSMA/CD and also electrical wiring, placement of wiring closets just make 100m the right fit.
Cisco Mgig
PoE/PoE+/UPoE
Standards compliant
Investment protection (existing cable plant)
Supports 100M but not 10M; (had to drop something as far as standards and nobody uses 10M anymore really)
802.11ac Wave 2
Max PHY rate: 6.8Gbps (in absolute best conditions)
More likely 3-ish Gb/s
Point: it's more than 1Gbs
Cisco Mgig products:
4500E line card
New 3850 models with Mgig ports
New compact 3560CX with 2x Mgig ports
Between 2003 and 2014, approx 70 billion meters of Cat 5e and Cat 6 cabling were sold
NBase-T must support existing cabling plants. 90% of the install base is Cat 5e and Cat6. Cat 6a is 8%. Cat 7 is 1%.
Cat 5e and Cat6 installed outlets are still growing (!)
The growth in wireless cannot be overstated as the driver for Nbase-T.
More users connect via wireless now than wired
Google processes more searches via mobile devices (wirelessly conected) than non-mobile
11ac Wave  2 coming; industry expects Wave 2 to start outselling Wave 1 very quickly after products become available
Side note: CLUS NOC is showing the majority of connected devices at the conference are 11ac, far exceeding 11n
Beyond Wave 2, there's Wave 3
Beyond 11ac there's 11ax
Wireless is a monster and will keep growing like this
The standards (1000Base-T at 100m) covers the worst case channel; the channel in the middle of the bundle (the victim channel). Your actual realized performance and lenth is subject to which channel is being used, quality of the cable, number of connectors and much more.
IEEE 802.3bz - 2.5G/5GBASE-T standard
Is there a competing standard? There was, but they voted in support of NBase-T.
"My goal is not to split the industry. If we do that, we've done you [customers] a disservice." -Peter
Cisco Canada's new headquarters in Toronto is one of the most technologically advanced buildings in the world.
All lights powered by PoE from the wiring closet
140x 3560CX switches up in the ceiling
Full building automation
PoE
802.3bt 4PPoE targets 100W at the PSE
Sends power down all 4 pairs
Backwards compat with PoE/PoE+
PoDL
Power over Data Line
Power for one-pair ethernet
Use cases: vehicles, IoT, new areas where Ethernet hasn't gone before
Plastic Optical Fiber (POF) - Fiber cable that's so easy to use it's perfect for the house where you can cut and splice it without special tools
Deterministic Ethernet
Use cases: precise time sync; guaranteed end-to-end latency; extremly low packet loss ratios
Who needs it: industrial (process control, machine control, vehicles); audio/video transport
How? Zero congestion loss; redundancy (1+1, like SONET)
Slides list many standards related to this area from IEEE
To get this right, IEEE and IETF need to work together (networks are both Layer 2 (IEEE) and Layer 3 (IETF))
New IETF working group "detnet"
802.3br / 802.1Qbu  - Preemption - a new standard that will allow a port to stop sending a less important frame in mid-send, send a high priority frame, and then resume sending the other frame.